Proud for Malaysia !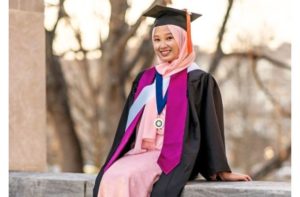 While initially intimidated by the rigours of a foreign higher education system, and the lack of female representation in her course of study, Irdina Shahriman eventually managed to stack the odds in her favour.
The Yayasan Tenaga Nasional scholar did it so well that she consistently achieved a cumulative grade point average (CGPA) of 4.0 throughout her time as a Bachelor of Science in Electrical Engineering undergraduate at Virginia Tech (VT) in the United States from 2018 to 2021.
That achievement led to her leading the pack for consecutive years, as she ranked first among almost 10,000 students.
It also saw the 24-year-old receiving the Phi Kappa Phi medallion for the College of Engineering – an award which is conferred on the graduating senior with the highest academic standing.Reflecting on her journey, Irdina, who graduated in December last year, said being steadfast and believing in herself had helped her overcome her fear of trying and making mistakes.
"I am not a 'genius' by nature, so I worked hard. I did not skip classes, I took notes diligently, and more importantly, I took the initiative to connect with my professors and classmates, which really enhanced my understanding of the subject matter," she told StarEdu.
"Embrace the learning process; that is what matters most," she stressed, adding, "Always set your intention right and translate it into action."
It was also her sense of accountability and perseverance in stretching her boundaries that had enabled her to weather what she called the "bumpy journey" of familiarising herself with the American education system.
"They put a lot of emphasis on expressing your views, being more creative, and thinking beyond what is being taught.
"For instance, there was a moment where I was informed that there was no format for a lab report and it should be written however I deemed appropriate.
"As someone who had always worked in a structured environment, that pushed me out of my comfort zone," she recalled.
She added that the American academic system requires students to be very consistent in studying as it is common to have exams twice a week throughout the semester. "Some days, I had to skip hanging out with friends or watching the latest movies. Those days were when weekends and weekdays were no different to me. My time was spent catching up on assignments and studying for exams.
"Procrastination didn't have a place in my dictionary," she shared.
She also said reminding herself of her purpose had enabled her to adapt to the male-dominated environment in her faculty.
"Throughout my time at VT, I had never had any female team members in my group projects, which intimidated me at times," she said.Although her studies were her topmost priority, Irdina made time for some co-curricular activities and acknowledged the importance of self-care.
"I firmly believe that maintaining good physical and mental health helps one to be more productive," she said.
According to Irdina, her lifestyle at VT consisted of sleeping eight hours a day, exercising, and eating hearty home-cooked meals.
She also pointed out that it is essential to plan one's study break as seriously as one's study time.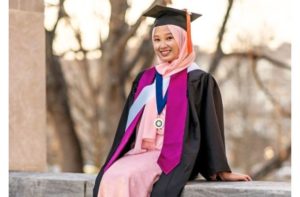 "Know your boundaries and don't get burnt out," she advised.Describing her experience in the US as "fulfilling", she said it had helped her discover herself and her capabilities of surviving hardships independently, as well as exposed her to different cultures and new friendships.
Having returned to Malaysia, Irdina, who hails from Subang Jaya, Selangor, is currently waiting for an employment placement at Tenaga Nasional Berhad.
"I am excited to pursue my career in power engineering and to contribute value to the country's energy transition towards a more sustainable source of electricity," she said.
To students with ambitions to make a mark in their studies, Irdina emphasised the need to believe in oneself.
"Trust in your abilities. Everyone has their own strengths and pace in life. Bear in mind that it's human nature to be competitive, and the most important part of competing is to compete not with others, but yourself." – THE STAR ONLINE/BACALAHMALAYSIA.MY