By Wahab Jumrah
Malaysia Airlines Berhad, colloquially known as Malaysia Airlines, is Malaysia's flag carrier.
The airline has been struggling for the past few years following several incidents involving one missing flight (MH370) and another being shot down over eastern Ukraine (MH17).
Now, Malaysia Airlines – wholly owned by Khazanah Nasional Berhad, a Malaysian sovereign wealth fund company – is considering selling its shares in a bid to recover from unprofitability.
On 20 January 2020, Malaysia's Prime Minister Mahathir Mohamed confirmed that Malaysia Airlines had received five proposals.
Sources say that the proposals were submitted by AirAsia, Malindo Air, Lion Air, Air France-KLM alliance and Japan Airlines.
As the discussion for the proposal is confidential, the details were not revealed to the public.
The question now is whether this bid is a good move? Tracing back Malaysia Airlines' history and past struggles might answer this question.
During the 1980s, the economic boom in Malaysia helped MAS grow, and by the end of the decade MAS became the first airline in Southeast Asia to serve intercontinental flights to South America.
However, during the Asian Financial Crisis, just like other companies in Asia, MAS suffered losses against its financial year for about five years. One of the damage control efforts was to discontinue unprofitable routes out of Malaysia.
In 2003, MAS recovered from its losses and achieved some profit before 2005 where it suffered another period of unprofitability due to rising fuel prices, escalated handling and landing fees, and other factors.
Idris Jala was appointed as the new CEO of MAS and launched its Business Turnaround Plan in 2006.
MAS posted a record profit in 2007 ending a series of losses since 2005. Route rationalising was one of the major contributors other than improving MAS' operation system.
In 2011, MAS recorded a net loss of RM2.52 billion (US$613 million) – the largest ever recorded in the company's history – due to rising fuel costs.
Idris Jala departed from MAS in 2009 to accept a position in the country's Cabinet.
The new CEO, Tengku Azmil Zahruddin took over the reins thereafter before newly-appointed CEO, Ahmad Jauhari Yahya, was appointed in 2011.
Again, the first initiative was to discontinue the unprofitable routes. MAS then recorded profits in 2013 and became a member of the Oneworld Alliance, a leading global airline alliance.
In 2014, MAS struggled to compete with AirAsia, the now-famous Malaysian low-cost carrier.
Then, the mysterious flight disappearance of MH370 in March 2014 added to its financial struggles. People started developing doubts about flying with the country's flag carrier.
The search for the missing plane has become one of the costliest endeavours in aviation history, centred around the South China and Andaman seas initially before shifting to the Indian Ocean.
As a result, MAS' stock went down as much as 20 percent following the disappearance of MH370 and fell 80 percent over the previous five years.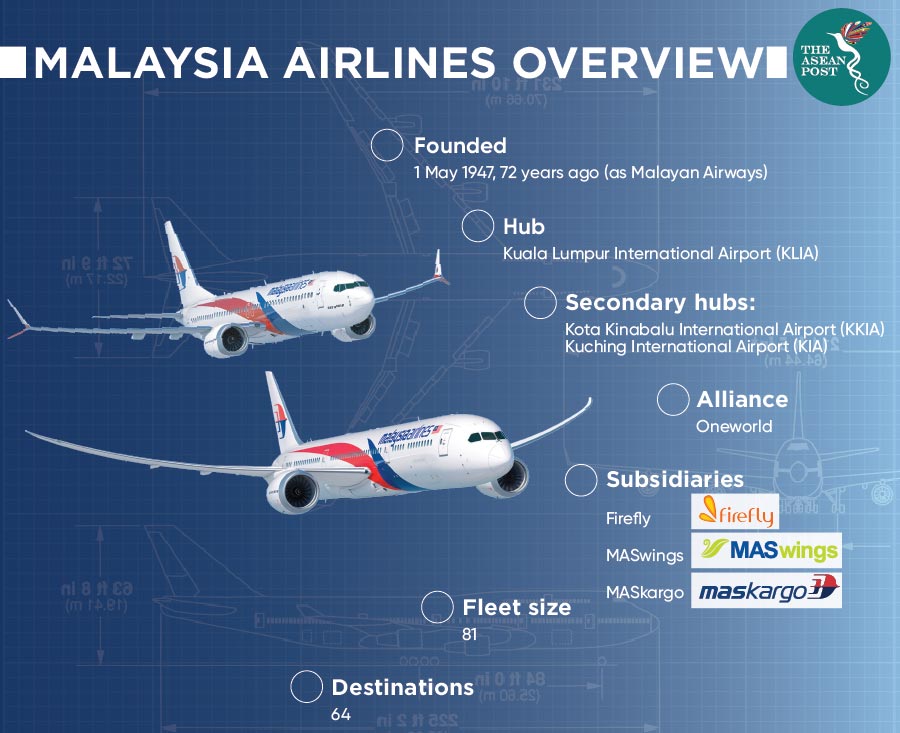 Three months after the tragic MH370 incident, another Malaysia Airlines flight, MH17, was shot down while flying over Eastern Ukraine.
The incident has become widely publicised because of the armed conflict in Eastern Ukraine between Russia and the Ukraine. These two incidents have greatly contributed to MAS' financial year losses.
On the proposed recovery plan, Khazanah Nasional Berhad – then the majority shareholder of MAS – announced that it would buy the shares of minority shareholders.
MAS will compensate shareholders with premium closing price shares as part of Khazanah's plan to restructure and rebrand MAS.
On 29 August 2014, Khazanah issued a report on the recovery plan that included cutting off 6,000 staff and focusing on regional destinations rather than long-haul routes.
In 2015, MAS rebranded its name to Malaysia Airlines Berhad (MAB) and appointed a new CEO, Christoph Mueller.
In less than a year, Christoph resigned from the post, citing changing personal circumstances as the reason. It was announced in 2016 that the new CEO, Peter Bellew would take over. He too decided to resign a year later. Currently, Captain Izham Ismail, a former Malaysia Airlines pilot is the new CEO of MAB.
Following the numerous CEO changes and to recover profitability – Khazanah Nasional Berhad, the parent company of MAB spearheaded by the government of Malaysia – has come up with an idea to offer the company's shares to airline companies who can propose a strategic plan en route to profitability.
With little details available to the public, several major newspapers in Malaysia have speculated that the Malaysian government and Khazanah are leaning towards selecting the AirAsia Group for this plan. The AirAsia Group has proposed to take over the shares offered by Khazanah and for AirAsia X Berhad to merge with Malaysia Airlines, potentially making the merged company a Malaysian/ASEAN champion competitor.
Proposals have been submitted by foreign carriers as well. The Air France-KLM alliance has proposed to take a 49 percent stake while Japan Airlines wants a 25 percent stake in Khazanah. This is not a surprise as the relationship between Malaysia and Japan has been improving following the samurai bond issuance by Japan in 2019. Things may not be so smooth with an Air France-KLM alliance though, as both parties belong to different airline alliances: Oneworld for Malaysia Airlines and Skyteam for Air France-KLM.
The bids are still being reviewed and Malaysia needs to carefully consider the proposals made. As Malaysia Airlines is the flag carrier of Malaysia and a national symbol, the decision made by Malaysia will be crucial in deciding the future of the aviation industry in the country. – THE ASEAN POST
Writer is currently a Senior Associate within the Private Clients Department at Vistra Malaysia and Singapore. He was a legal practitioner in Raja, Darryl & Loh before deciding to move to southern Johor to work as an in-house counsel.